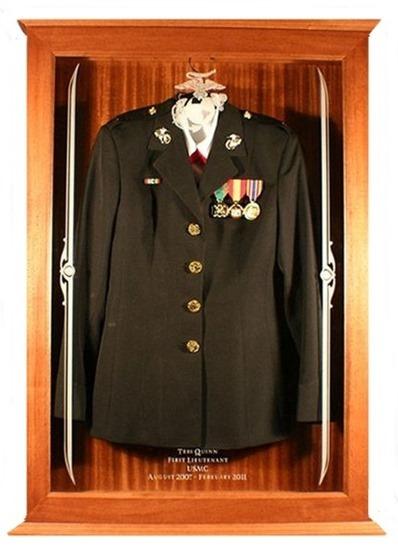 How to Care for, Store
and Display
Military Uniforms
The challenges of collecting military uniforms are many, but a passionate collector will welcome them.
They may not be as widely collected as medals or badges, but military uniforms have a significant fan base of their own. That in itself is not surprising. There is something about uniforms that turns even a fair-to-middling body (be it male or female) into a dashing figure. No one can be immune to such magnetism!
Therefore, the question is not: Why do people collect military uniforms? The question is: How do they manage the challenges?
How to Care for Them
The first challenge you as a collector are faced with upon receiving a uniform you bought, for example, on bidorbuy, is how to clean it, if cleaning is necessary.
It won't do to be too vigorous, because that could damage old uniforms. It is best to limit yourself to light brushing. If there are any stains, try to remove them by wetting and blotting the affected area, as many times as it takes. However, first do a test on the part of the fabric that's not visible. Experienced collectors do not recommend the old trick of rubbing out stains with fresh bread: while you will probably achieve immediate results, the fats in the bread can cause lasting damage to the fabric.
If you have to take an old uniform to a dry cleaner, choose the one that you know will treat the garment with due caution.
As for metal parts of the uniform, choose a cleaning method depending on the type of the metal. For example, silver will shine after you rub it with cotton wool dipped in pure lemon juice; enamel requires some steaming over a gently boiling kettle (hold the object with long tweezers!) and then a gentle wash with soap and warm water; cleaning brass involves a weak solution of sulphuric acid, which means that utmost care is indicated. Bronze and copper objects should not be cleaned at all. If the bronze is clogged with a layer of dirt or stained, rub some machine oil all over it and then buff with a soft cloth. If some of the original finish is damaged, a touch of dark brown shoe polish will add some colour.
Whatever you do, do not even attempt to make the item look "as new". As one passionate militaria collectorpoints out, there is a lot to be said for leaving untouched a patina that has developed over the life of the article.
How to Store Them
Since you'll probably spend your budget on the item, your newly-acquired collectible uniform will doubtless spend some time stored while you amass enough resources to organise a suitable presentation.
You need to remember that the natural aging and drying processes will have weakened the fabric, making it sensitive to pressure. Take care not to create any new creases or folds. Enclose the item in paper or cloth that has not been treated chemically (for example, bleached cloth will not do) and lay it flat in a box or a drawer.
If it is not possible to lay it down, you may hang your collectible uniform on a padded hanger, making sure there is a lot of space around it.
How to Display Them
One of the points of collecting is displaying one's collection. In thatrespect, uniforms have distinct disadvantages in comparison with, say, medals, badges or even swords (to remain in the militaria domain) due to their size and the need to protect the delicate fabric.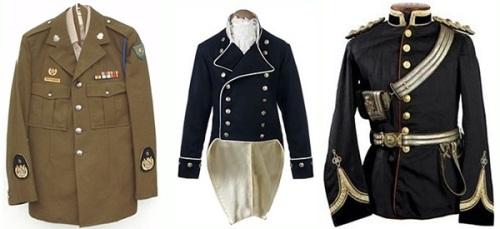 Military uniforms are usually displayed in a suitably deep shadow box. An all-glass cabinet is an excellent choice for the pièce de résistance of your collection, because it allows for a 360 degree view. Of course, if you opt for the latter, you will need a mannequin – and a large room.
You can buy a ready-made display unit and you can have a professional mount the uniform. However, if you want to have fun (and if the funds are in short supply), you can do-it-yourself. For one extra touch of originality, use an old window for the front of your shadow box to make a stunning display case. Four long and narrow windows can be fashioned into a very serviceable 360-view display cabinet.
Whichever solution you opt for, it is important to monitor the display unit for any signs of trapped moisture, especially in a humid climate.
The challenges of collecting military uniforms are many, but passionate collectors will welcome them. It is a good idea to invest in specialty books, as well as to interact with militaria collecting community on bidorbuy forum, seeking and giving advice.