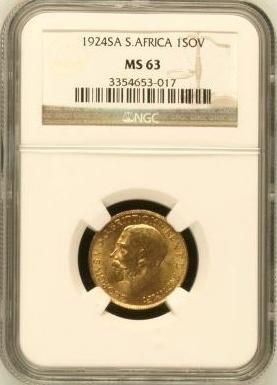 (9 November 2016) An extremely rare 1924 South African Union Gold Sovereign coin which was listed for R300,000 was recently sold on www.bidorbuy.co.za.
The coin is graded MS63 by NGC, the internationally recognised American coin certification company.
This is the second high-value sale of a collectible item recorded on the site in a short period of time. Less than a month ago, a set of rare collectible Union of South Africa stamps was sold for R564,500.
Jaco Jonker, the CEO of bidorbuy, explains that collectible items such as stamps and coins are very popular on the local online marketplace and adds: "We can say that our platform is the place where collectors go to, whether they want to buy or sell a rare collectible item.
"Every so often, we register a high-value sale in the coins category, in the range of about half a million rands. Recently, we had the price of a stamp collection soar to such a level too", he says and concludes:
"The fact that buyers and sellers are ready to trade such high values online indicates that they are increasingly confident with ecommerce in general and with the bidorbuy trading platform in particular".