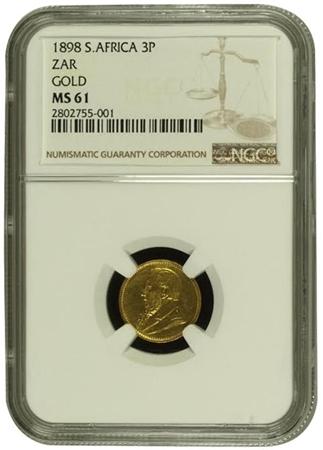 (14 February 2017) On 6 February, the day when bidding for the rare 1898 Sammy Marks golden tickey coin opened on www.bidorbuy.co.za, one bidder actually offered to take it for the starting R1! But after only about a week of fierce bidding and counter bidding, the little coin reached the staggering R399,000, with everything indicating that the price will go even higher by the time the auction is set to close on 26 February.
"bidorbuy is recognised as the place to go for buying and selling rare coins and other collectibles. However, as far as we know this is the first time that this particular coin has been offered on our platform. It is not surprising that it triggered such interest", says bidorbuy Category Manager David Berry.
The coin depicts the portrait of President Paul Kruger on the obverse and a laurel wreath surrounding the number three on the reverse. Like all three pence ZAR coins, it is nicknamed "tickey" for reasons that remain a mystery.
Never legal tender, Sammy Marks golden tickey is regarded as part of the ZAR series because it was struck from official dies. In 1898, President Paul Kruger allowed the mining magnate Sammy Marks to use the National Mint for one day as a gesture of appreciation for services to the government. Marks had 215 tickeys struck in 22 carat gold that came from his mines. He gave the coins as gifts to friends and family. Today, these rare pieces are worth a fortune. Only 32 out of the original 215 are known to have been graded.
"The specimen on the bidorbuy auction is graded MS61 by the reputable NGC grading company", says David Berry.
The abbreviation "MS" stands for mint state. The seller specifies in the listing that the coin is "full lustre" and "UNC"; in other words, that it is uncirculated and has no trace of wear.
"In the past, we've had auctions where rare ZAR coins attained the prices close to half a million rands," says Berry. "We impatiently wait to see whether this Sammy Marks golden tickey will beat previous records."