Tablet-X - 7 Inch Android 2.2 Tablet with

WiFi and Camera - Silver Rear Casing

Say hello to amazing multimedia and internet-surfing on the go with this Android 2.2 Tablet. Merging the power of the Android OS with a 7 inch touchscreen, this tablet brings you the easiest way to experience the web, email, multimedia, ebooks, and games at any place, any time.
A portable experience like no other: Everything just became a lot easier with this 7 Inch Android Tablet. Browse the internet using WiFi, watch videos on YouTube, read ebooks, send emails, play your favorite games - do whatever you want, when you want. Along with the 800x480 resolution 7 inch touchscreen, the details just looks better and the pictures smoother - a true feast for your eyes. Best of all, with 2GB internal memory and external memory supported up to 32GB, you can carry your favorite movie and music collection on the go and enjoy them anywhere you want.
Gain access to everything: Haven't heard of Android? It's only the most popular operating system in the world and includes true multi-tasking, widgets, and many more features that can't be found anywhere else. Best of all, this 7 Inch Android 2.2 Tablet comes installed with convenient applications such as email, YouTube and of course an App Market, which is home to tons of third-party applications ready for you to download.



At a Glance...

Android 2.2 Froyo

7 Inch Touchscreen (Single-touch Resistive), 800x480 Resolution

800MHz WM8650 Processor

256MB RAM

2GB Flash Memory

Special Features: Camera

1500 mAh Battery

Release Date: December 23, 2011
Package Contents
7 Inch Android Tablet - White
Extension Adapter (comes with 2x USB ports + 1 RJ45 Ethernet port)
User Manual - English
Power Adapter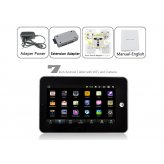 Primary Function: Android Internet Tablet
Screen: 7 Inch Touchscreen LCD
Screen Type: Resistive
Screen Resolution: 800*480
CPU Processor: WM8650, high-performance 800MHz CPU + 300MHz DSP
Internal Memory/ROM: 2GB
External Memory: Micro SD Card up to 32GB (Not included)
USB Flash Drive Support: Yes, up to 8GB
Memory/RAM: 256MB DDR
Battery Type: Polymer Lithium-ion battery (7.4 V)
Battery Capacity: 1500 mAh (4-5 hours of constant use)
Video using time: 3 hours
Speaker: Built-in 2W
Mic: Built-in high sensitivity mic
Wireless Interface: WiFi 802.11b/g
Camera
- Photo Resolution: 0.3Mp
- Format: JPG
Camcorder:
- Video Resolution: 240 x 320
- Video FPS: 8
- Format: 3GP
Software
- Operating System: Android 2.2
- Pictures: JPG, JPEG, BMP, and PNG
- Audio: WWMA, MP3, WAV, AAC
- Video: 3GP, MPEG1/2/4, H.263, MJPG, H.264 (Many more can be supported by third-party software!)
- Reader: TXT
Dimensions (L*W*D):198mm * 128mm * 10.5mm
Certification: CE, FCC, RoHS

Product Notes
This product was formerly CVWF-PC06-XMAS-WHITE [7 Inch Android 2.2 Tablet with WiFi and Camera - White (Christmas Edition)], which was originally meant for the Christmas season only. Due to strong demand, it's back as a regular product!
Download your favorite third-party apps through the App Market!
Browse the internet for free with WiFi!
This Android device only supports text chatting, not voice calls
Buyer is responsible for duties VAT on this item!