Welcome to our Item.
We are wholesalers shipping products from Europe, South America, Africa and the East.
Now we are focussing on bringing products into South Africa. Our aim is to pass on as much value to the African consumer as possible. Have a look at our products and let us know if there is anything else you feel we need to stock.
______________________________________________________________________________________________________________________________________
Product name: Blackberry Storm2 9520, Unlocked and ready to use on any network
Description: One of the most popular BIS and BBM devices available. This follows on from the 9500 and the phone is a big winner for RIM. Read the review on GSMArena.com: http://www.gsmarena.com/blackberry_storm2_9520-review-436.php
Colours Avail: Black
Source: Mexico or Hungary, Delivered through Hong Kong. Your product will be Shipped through Hong Kong using DHL. we use Hong Kong for preferable shipping rates
Expected Delivery : 12-18 Working Days (3 Days Payment Processing, 3 Days movement from Source to Hong Kong, The balance of days is for transit.) Our average Shipping time has been 11 working days including Payment processing and stock movement. NO DELIVERY CHARGES TO MAIN CENTERS IN SA, ADD AN ADDITIONAL R120 FOR OUTLYING AREAS. Please read our shipping and payments T&Cs.

Package Contents: Original, New Blackberry Storm2 9520 (unlocked for all networks), Battery, Charger, cd, earphone, data cable, Leather case.
Warranty: We offer a Warranty, 1 Year from Payment for Manufacturing Defects. All items are checked for functionality before leaving Hong Kong. Repairs will be free, but shipping cost will be for the buyer. Non-manufacturing damage will be chargeable.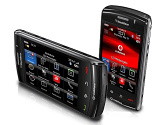 Bulk Purchase Discount : Save R260 per phone if you buy 5 or more phones with free delivery to main centres in SA for one address, all for R7,700. Contact me to list a bulk sale!!! Warranty only 6 months for Bulk purchases, non-transferable.