Terms Of Sale
Read the Sale Description

Happy Buying!
Please ask me questions - I'll gladly give you a hand!
Shipping Anywhere in SA
Standard - R45 Overnight Speed Services - R85
*Please Add 3.5% for Insurance*


!!More Amazing Products - Click Here To See All My Listings!!
Gary Moore & The Midnight Blues
Live at Montreux 1990
Legend Guitarist Gary Moore!!

The box/covers/booklet are in very nice condition

The DVD disc has a few minor scratches but plays perfectly
Review :
This Is One Powerful Blues Guitarist!
13 December 2008 | by ccthemovieman-1 (United States) – See all my reviews

Gary Moore may not be a pretty sight with all his facial grimaces but, man, can this guy play guitar! I've seen him on several DVDs but this is the best I've heard him play. Some songs in here are just downright nasty! You get a lot of them, too - almost 20 songs in here, all but three coming from the Montreux Jazz Festival on July 7, 1990.

Blues great Albert Collins joins Moore for several numbers. The track listing is as follows:

1. Oh Pretty Woman, 2. Walking By Myself, 3. The Stumble, 4. All Your Love, 5. Midnight Blues, 6. Don't Love Me, 7. Still Got The Blues, 8. Texas Strut, 9. Moving On, 10. Too Tired, 11. Cold Cold Feeling, 12. Further On Up The Road, 13. Stop Messing Around, 14. Blues Is Alright, 15. The Messiah Will come Again. Bonus Tracks (1997): 1. Out In The Fields, 2. Over The Hills & Far Away, 3. Parisienne Walkways.

For me, "Texas Strut" was so good it was almost worth the price of the DVD alone. It will simply leave you with a big smile on your face and is a nice tribute to Stevie Ray Vaughan and Billy Gibbons. I may be wrong on this, but I don't think Moore has ever become a big name here in North America, and that is a shame. The man is an amazing guitar player and his powerful sound reminds me a lot of Vaughan and, yes, even Jimi Hendrix.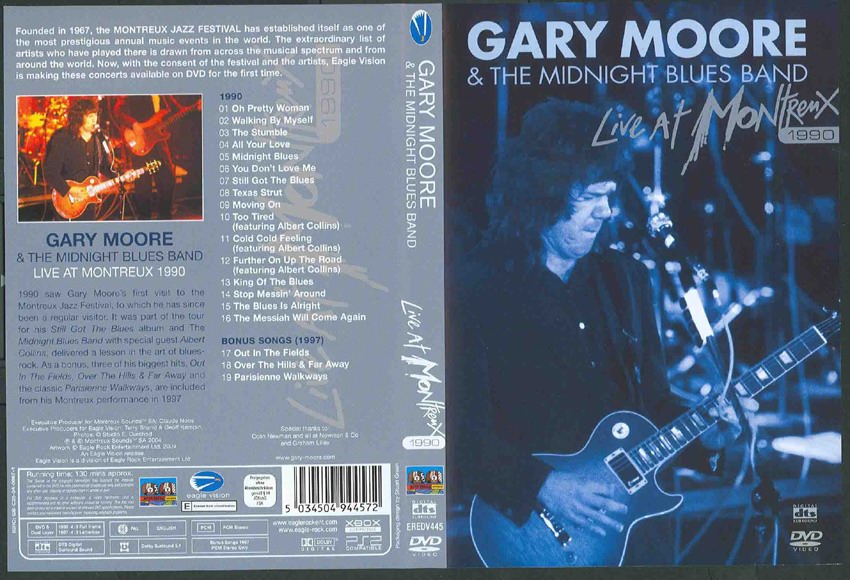 Please confirm Compatibility Before ordering!


*I cannot do Returns or Refunds on Correctly Supplied Items*




Or ask me a question , I'll gladly be of assistance!!