Euphorbia tirucalli 'Firesticks' Plants
Firesticks is a stunning, upright, large succulent that grows with a single or multiple trunks which support a tangle of pencil thick branches, with little sign of a leaf.
The new growth is a beautiful deep rose colour. It makes a stunning houseplant in bright light or patio container plant and is also an excellent addition to any frost-free rock or succulent garden. Euphorbia tirucalli is often used as a hedge in coastal districts, traditionally found in tropical eastern and southern Africa. Avoid contact with the milky sap that oozes when the plant parts are damaged or cut. It is a rapid grower that can form a large shrub in ideal conditions.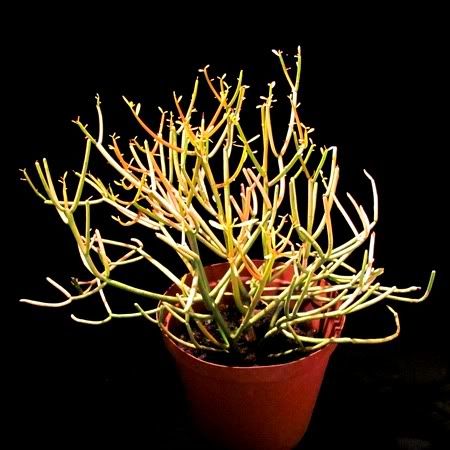 Growth is restricted when contained in a pot. The main trunk and branches are woody and brownish, but the younger branches are cylindrical. It bears countless insignificant flowers from late spring to early summer. Firesticks thrives in full sun and is highly drought tolerant. Use a free draining potting mix, fertilise and water regularly in the warmer months, leave almost dry during the cooler months.
These plants will be sent without pots and soil free. We'll remove the plants from the soil as it not only increases postage but also makes the parcel unstable.
Above on the right is a photo of one of the actual plants which are in 25cm pots.