Add color and sweetness to big celebrations and little everyday moments.
Your new Frosting Deco Pen makes it so much easier than ever before.
It's designed to help you create beautiful decorations - on both store bough baked goods and home-made one - in mere minutes.
No more stick mess, no wasted frosting and very little clean up!
The battery-powered unit handles just like a pen, simply push down on the yellow lever to dispense frosting in two speeds - fast or slow.
Because of the Frosting Deco Pen's special Filler Plates, filling the units Frosting Cartridges are amazingly simple! The Filler Plates are designed to work with frosting containers from all three main supermarket brands.
Further, loading and changing Frosting Cartridges within the Frosting Deco Pen is a snap !
And with 3 Frosting Cartridges to swap, your creativity is always inspired.
Set includes 14 pieces:
Frosting Deco Pen
6 Decorating Tips: round, star, ribbon, leaf, basketweave and a filler tip.
3 Frosting Cartridges
3 Filler Plates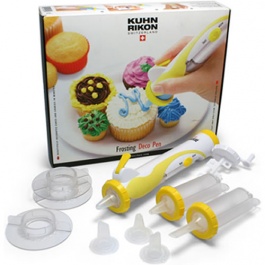 A GREAT GIFT!!!