Tiny Undetectable Bluetooth Ear Piece with Bluetooth Glasses (Mini Spy Gadget)
This cool little Bluetooth set comes with a super tiny Bluetooth earpiece and a Bluetooth Glasses for you to secretly receive phone calls.
Tiny Earpiece with Cool Bluetooth Glasses
This Bluetooth earpiece is super tiny and works perfectly as a hands free kit for your phone calls. The Bluetooth Earpiece looks like an earplug with a tiny antenna, and slips comfortable into your ear, where no one can easily detect it. Answering and rejecting phone calls is done through the Bluetooth glasses, which is equally inconspicuous. This Bluetooth Hands free set is the perfect buy for those who want to have a secret conversation using mobile technology,
Receive Phone Calls Secretly
With this tiny earpiece, you can receive instructions through your phone without anyone noticing. This is what true secret agents use and with this device you can cheat on tests, get advice when talking to girls from your friends, and scout out dangerous places whilst someone acts as your lookout. Because of its size, the device doesn't output a high volume, however when positioned into your ear you'll be able to hear well enough to understand what's being said.
Useful in a wide variety of situations
If you want to cheat on a test at school, then this is the device to use. You can secretly communicate with someone else calling you. This great Bluetooth set is incredibly simple to use and you can get it up and running very quickly. It's also extremely compact and portable. You can rely on this cool little gadget to secretly and covertly deliver information to you whenever you want and no one will detect the incredibly small Bluetooth earpiece you are wearing.
At a Glance...
Undetectable Ear Piece – Secretly Receive Calls
High Quality Bluetooth Hands Free Kit
Simple to use and setup
Multi-Function Bluetooth device
Complete Communication Kit for secret and covert communication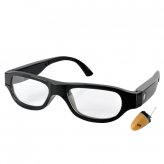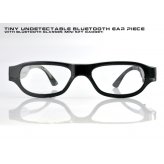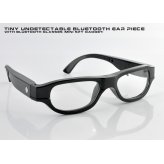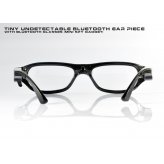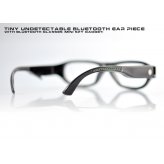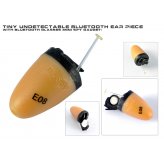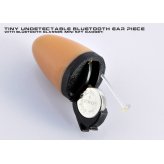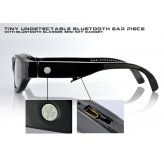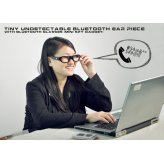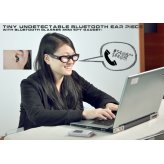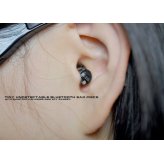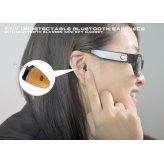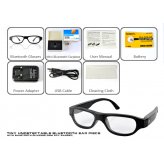 Manufacturer Specifications
Bluetooth version: 2.0
Battery: Built-in 240mAh rechargeable battery
Battery life (standby): 9 hours
Receiving distance: 50-70cm
Built-in microphone: Yes (on glasses)
Mini Receiver Dimensions: 3x5x7 mm
Package Contents
Mini Bluetooth Earpiece
Bluetooth Glasses
Charging Cable
Cleaning Cloth
Carrying Pouch
User Manual