UNISEX DUE TO SIZE AND APPEARANCE
ABSOLUTELY STUNNING AND BEAUTIFUL - NOT JUST ANOTHER TAG HEUER
TAG HEUER 200M SPORTS/ELEGANCE MIDSIZE WATCH MODEL S04.713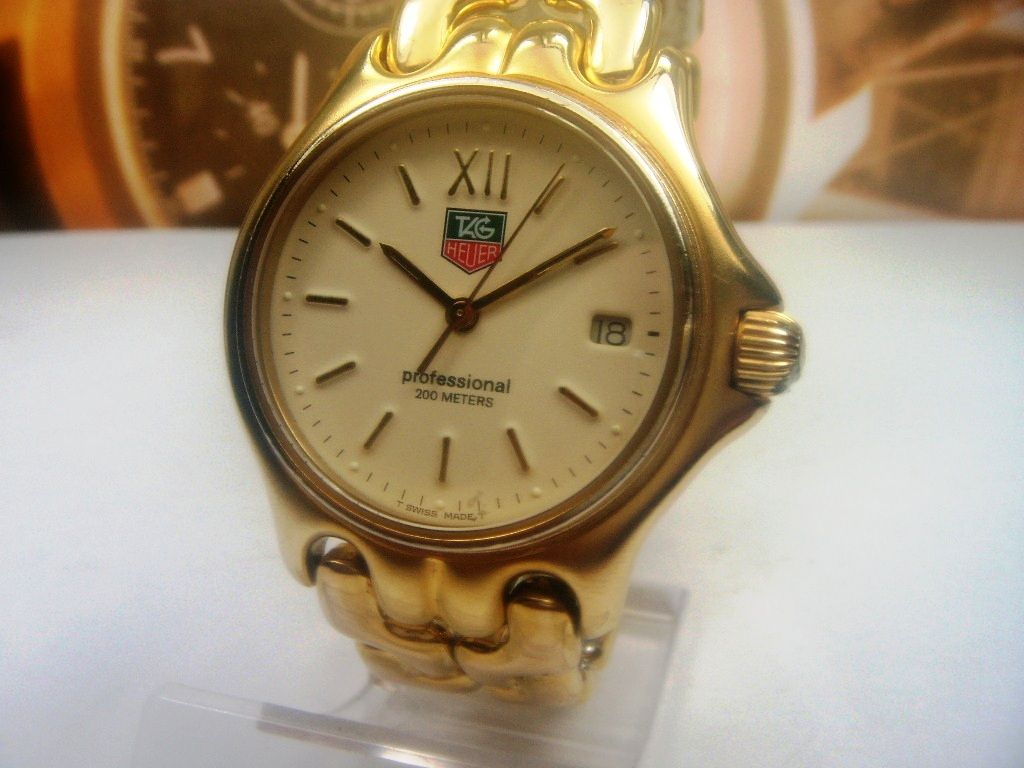 GOLD PLATED CASE MEASURING APPROXIMATELY 34MMX40MM, WITHOUT CROWN AND FROM LUG TO LUG

WATCH COMES IN TAG HEUER BOX
CREAM DIAL WITH GOLD/ROMAN MARKERS - GOLD HANDS WITH SECONDS
TAG HEUER GOLD SCREW-IN CROWN WITH LOGO, SAPPHIRE CRYSTAL, QUICKSET DATE AT 3 O'CLOCK, PLAIN BEZEL
PRECISE TAG HEUER QUARTZ MOVEMENT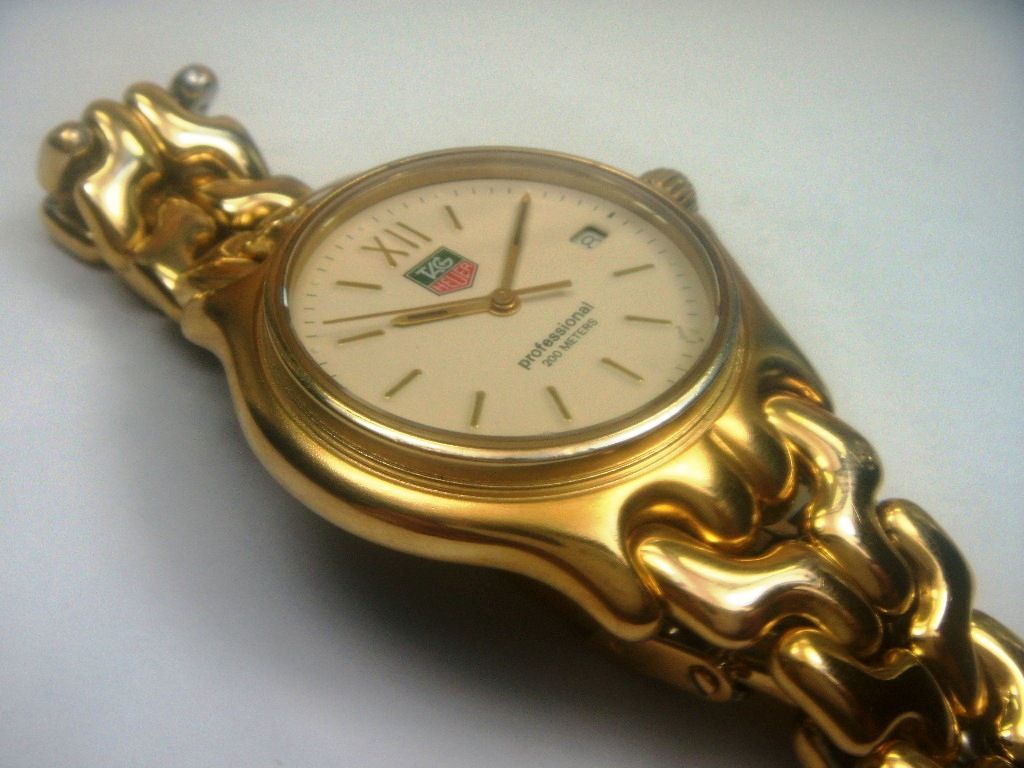 STAINLESS STEEL BACKCASE MARKED 'TAG HEUER SWISS SINCE 1860 SWISS MADE SAPPHIRE CRYSTAL.... MODEL S04.713', - FADINGS/BUFFED
TAG HEUER GOLD-TONE 'Y' LINKS BRACELET, 439, WILL FIT A 7 INCH WRIST APPROX.. FADINGS IN THE GOLD-TONE, BUT SHOULD NOT BE NOTICED WHEN WORN - PLEASE SEE THE PICTURES


34MMX40MM BEZEL - BRACELET WILL FIT A 7 INCH WRIST APPROX
AS THIS IS A SECOND HAND WATCH AND ALTHOUGH IN VERY GOOD CONDITION, NO GUARANTEE CAN BE GIVEN
1. Wherever an estimate price is displayed, it is an estimate (meaning plus minus or what it might be, or average) only and not in anyway the means of us or sellers on Bidorbuy to try to mislead you. As with any other item for sale in the outside world, buyers should compare prices and if they find the same or similar items at lower costs or prices, there could be many reasons for. REPLICAS AND FAKES ARE AVAILABLE AT VERY LOW PRICES. Do not use excuses like on Google or anywhere else the same items could be purchased at a better price or for less. If that is the case DO NOT BID, BUT RATHER BUY FROM THAT SOURCE, AND REPORT THESE BARGAIN BUY'S TO US
2.An Internet auction is also a market but by bidding, the buyer is negotiating a price and when the price exceeds the value you as buyer intend to pay, do not not lodge another bid. It is the prerogative of the buyer to decide whether he/she want to buy and each bid is seen as a negotiation to buy at that price.
3.BY ENTERING A BID, A BUYER IMMEDIATELY ENTER INTO A LEGAL CONTRACT, TO BE WILLING TO PAY THAT PRICE IF THAT BID IS THE WINNING BID.
4. Nobody, including Bidorbuy will ever put any pressure on any buyer, to bid on an item. If you buy a watch it comes with a strap as supplied by the manufacturers. If you do not like colours of straps or think strap leather quality might not be good enough according to your expert opinion, do not bid. Returns will be accepted only within 3 days after delivery to you and only if item is in exactly the same condition including boxes and documentation. Return shipping costs is payable by you and all returns to you will be with Couriers and paid by us.
5. WE DO NOT AND DID NOT MANUFACTURE ITEMS INCLUDING WATCH STRAPS. ITEMS ARE SOLD AS WE RECEIVED IT. NAMES, EMBOSSMENTS AND ENGRAVEMENTS ON ITEMS WAS DONE BY MANUFACTURERS AND NOT BY US. We do not replace straps to mislead buyers. We did not and do not do plating. Plating on all types of watches do fade after a time especialy on braclets.