This watch is gently used.

As you probably know, the Swiss-made TISSOT PRX line is one of the finer classic time pieces made and this one is no exception.

This model is the rare P480.

It is understated elegance at its best.

The white dial face is offset by gold hands, numbers and trim.

It features 7 Jewel and comes with battery.

The P480 is rated water resistant to 100 meters although this watch has never been in water. The glass is sapphire
crystal and is virtually scratch resistant. The unit is housed-in and banded with polished stainless steel with gold
trim.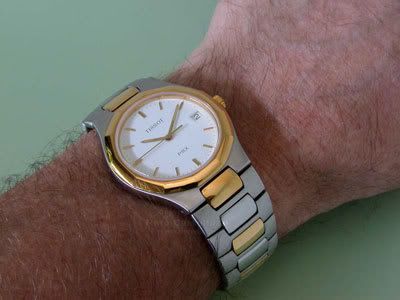 Tissot PRX Quartz, ca. 1990
ETA 955 112, 7 Jewels, Battery R371
Front
Close-up 9 o'clock
Back
Movement
Wirst