5-in-1 Wireless Headphone
**TV,PC,DVD, Gameplayer, iPod, iPhone, MP3, MP4, PMP,CD**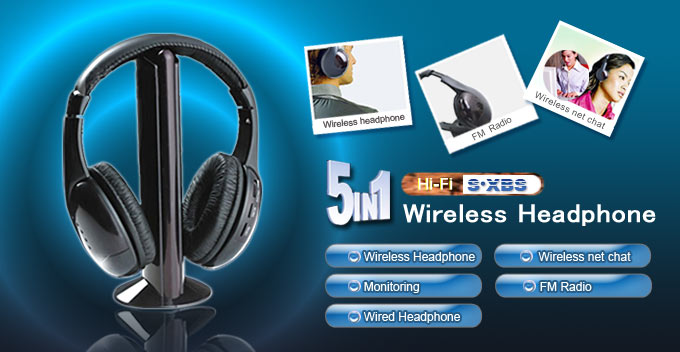 Wireless headphones let you listen to your TV show or music without disturbing others;
Clear stereo sound accompany you virtually anywhere within your house!
Functions include wireless net chat, monitoring activity in another room, or built-in FM radio
Product Description
Complete your multimedia entertainment with a pair of this MH2001 5-in-1 Hi-Fi S-XBS Wireless Headphones! This 5-in-1 is a Wireless Headphone so you can listen in private, an FM Radio to listen to your favorite FM channels and a Wireless Net Chat for the perfect audio chat tool while you surf! You can also use this as a Wireless Monitoring Device and with the included audio cable, the receiver (headphone) can be used as a wired headphone!
General Features:
Black color
Comfortable, padded earcups
Five applications in one device
Wireless Headphone: for private listening
FM Radio: Scan for your favorite FM channels
Compatible with PC, MP3 players, TV, CD or DVD players
Wireless Net Chat: Emitter comes with built-in microphone for Internet chatting
Wired Headphone: With the audio cable, it can be used as wired headphones
Wireless Monitoring: Place the Emitter near the people you want to monitor (children, elderly people, etc.) and it will pick up audio
Lead-free components (RoHS compliant)


Receiver (Headphone) Specifications:
Distortion: ≤ 2%
Reception Mode: FM
Frequency Range: 86 - 108 MHz
Power Supply: Two (2) AAA batteries (not included)