PLEASE READ "SHIPPING AND PAYMENT" BEFORE BUYING
Ever yearn for old school games like Super Mario, Castlevania: Symphony of the Night, Sonic the Hedgehog, Street Fighter, Tetris, Zelda and all the other greats! Well with this Custom Android 2.3 OS gaming tablet, you can download MAME Arcade, NES, Nintendo 64, PS1, SNES, Gameboy, GBA and Sega Genesis/Megadrive emulators and games to your 8GB Tablet memory for free, truly making this a PLUG and PLAY "android gaming tablet!" Its "Game Center" is definitely a focal point and is akin to that of the cloud service for game downloads, offering an Android Marketplace-like platform. This latest 7 inch Android 2.3 tablet with A9 CPU and touchscreen hybrid gaming capabilities, together with 360 degree joypad performance, dual camera and multimedia platform, is now available!

Truly an "All-in-one Gaming Android Tablet hybrid!" Made for old school gamers and new school enthusiasts alike, this touchscreen is reminiscent of the first game-boy, with its dual pads and emulator capacity. With built in HDMI, DC in, 3.5mm earphone, mini USB and TF, this device fashions dual camera support. Take photos whilst outside or use wifi and skype to chat with friends and family with its inbuilt face-time camera! With up to 5 hours of web surfing, whilst getting a load of your favorite blockbuster movies or top tunes, you can rest-assured without battery issues with its 3800mAh battery!


At a Glance...
Android 2.3, 7 inch Touchscreen Multi-touch Capacitive 800 x 480 resolution
Amlogic M3, ARM Cortex A9 CPU ARM MALI 400 GPU Chipset
512MB DDR3 RAM
Special Features: 360 degree Gaming function pads, Game Center' platform for plug and play, Accelerometer
3800mAh battery
Release Date: 23rd July 2012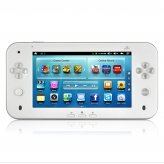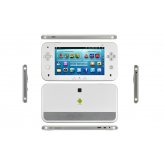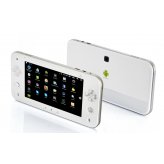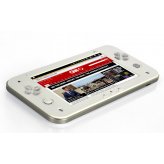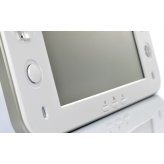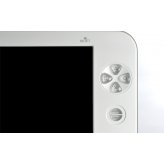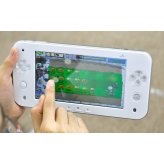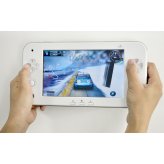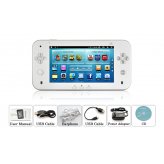 Specifications
General
- Operating System: Android 2.3
-TV-OUT: Support HDTV-out
-USB cable
-USB to mini USB cable
- CPU: ARM Cortex A9 CPU
- CPU Speed: 512 MHz
- RAM: 512Mb
- Keyboard: On screen keyboard
- Screen: 7 Inch TFT Capacitive Multi-Touch Screen
- Screen Resolution: 800x480
- Camera Resolution: 0.3MP Front, 2.0MP Back
- Built-in Speaker and Mic
- Battery Type: 3800mAh Rechargeable Battery
- Battery / Run Time (up to): 10 hours for playing music, 4 hours for playing video, 5 hours for internet
- Power Device Type: AC adapter v- Voltage required: 100V - 240V
- Color: Black face panel with silver cover
- Languages: Czech, Dansk, Dutch, English, Spanish, French, Italian, Netherlands, Polish, Portuguese,Turkish, Greek, Russian, Korea Chinese (simp), Chinese (trad), Japanese
- Dimensions / W x D x H: 2250x121x20mm
Input/Output Connectors
- Mini USB (for data transfer)
- Mini USB (host)
- HDMI
- 2.5mm Headphone
- DC jack
Communications
- Wireless Connection: WiFi
- Wireless Protocol: WiFi 802.11b/g
Supported Media Formats (More with third-party software)
- Audio: MP3, AAC, WAV, WMA
- Video: MPG, 3GP/MP4, MPG, RMVB
- Picture: JPEG
- Ebook: PDF, TXT etc.
Certification: CE, FCC, RoHS
Dimensions: 250x121x20mm
Package Contents
Android 2.3 A9 Tablet
Power adapter
USB cable
Earphone
USB to mini USB cable
CD
English Manual