Mountain biking is a great sport that can be done almost everywhere. With a combination of strength, endurance and bike-riding skills, it is an exhilarating sport that offers many opportunities.
Before you jump in the saddle and head for the nearest mountain, consider some basics, starting with your first mountain bike.
A First Bike…
The array of bikes to choose from can be pretty bewildering. If you are serious about mountain biking, the golden rule is to go to a recognised bike shop rather than your local supermarket. If possible, take a friend with you who knows something about mountain bikes.
As with all things in life, you pay for what you get. But don't get conned into buying a bike with many flashy accessories. Look at the basics, such as frame, brakes and gears. These should be quality products so look for reputed brand names like Atlas or Shimano.
Size is important! Generally speaking, a mountain bike is smaller than a road bike. A good way to check if a frame size is right for you is to stand astride the bike frame, then lift the bike off the ground until the frame top tube just touches your crotch. Carefully! The wheels should be somewhere between 7 and 13 cm off the ground if the frame is right for you.
Don't start something you can't stop. Check out the brakes before you buy your mountain bike. Top of the range are hydraulic disc brakes, but these can be complicated and need a lot of adjustment. The traditional cable brakes with pinch type V-brakes are OK, but disc brakes, even with the simpler cable operation will give more stopping power after you've ridden through that stream or large puddle.
To paraphrase the ancient Chinese saying, many gears make light work – in this case, of steep hills. Most entry level mountain bikes will have around 21 gears, which may seem like a lot, but a large number do offer great versatility when you're off-road. Check that the gears change quickly and easily and when you want them to, not when they feel like it. Again, good branded equipment will normally function well.
Here are a few suggestions for good entry level mountain bikes. Check out the Mongoose Otero Super, a solid model that features hydraulic disc brakes and adjustable suspension. Or try the GT Avalanche 3.0 Disc, which, as its name implies, also has disc brakes, this time cable operated. An aluminium frame and alloy wheels –- with stainless steel spokes – add to the overall feeling of lightness.
The Schwinn Voyageur GS is another good entry level mountain bike and is available for both men and women. Both have aluminium frames, conventional pinch type brakes and come with 21-speed gears. A suspension unit in the saddle post helps with the bumps, too.
If you're looking for a compromise bike, suitable for both road and off-road, perhaps the Raleigh RC 2000 or the Silverback Casablanca models are worth consideration, although these are not out-and-out mountain bikes.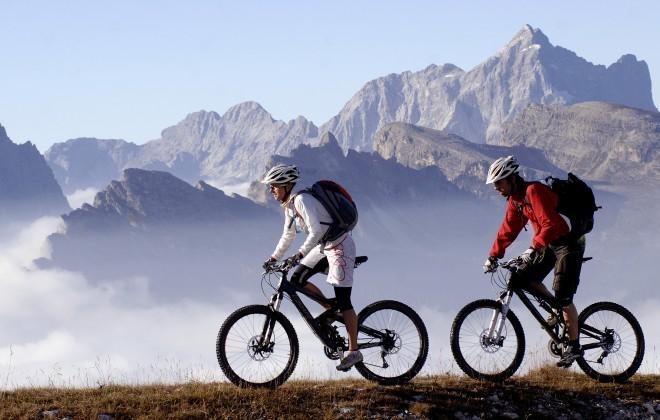 Accessories
So you've got your bike and you're ready to hit the hills, right? Wrong! A few basic accessories are essential before you get pedalling.
They say that there are two things certain in life – death and taxes. Add a third if you're into mountain biking – you are going to fall off at some time. When you do, you'll need to protect at least your head with a good helmet. Pick one that's comfortable, so you'll actually wear it while riding. The Bell Ukon mountain bike helmet is good value for money and features 17 air vents to ensure you don't get too hot headed.
Hands and fingers are vulnerable too. A good pair of gloves will protect them in a tumble; they'll also keep your hands warm enough to operate the brakes and gears. Flex-gel gloves will safeguard your hands well. Also, the gel padding in the palm area cushions the impact of jarring vibrationsfrom the handlebars. Try on a few pairs before you buy, though, to make sure the gel is not so thick that your hands get tired from the extra flexing needed to compensate for the gel thickness.
If you're in this for the long haul, why not consider a bike computer? There is a wide variety of computers available, from simple units up to multi-function devices. Something like the NERD 9 function is a good compromise (don't be put off by the name!). It's easy to install without tools and gives you current speed, trip distance, total distance and riding time for the day, average speed and maximum speed. Oh yes, it also tells you the time in 12 or 24-hour format.