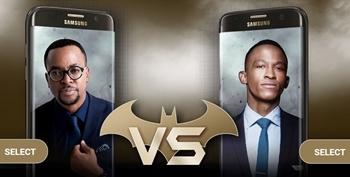 (26 July 2016) Obvious Kat will raise more funds, tweeted one fan. I'm sure Maps will win this, rejoined another.
Kat from the above is Katlego Maboe, and Maps is Maps Maponyane, award-winning celebrities. The two are currently engaged in a head-on #SamsungHeroes contest on bidorbuy, competing to see who will raise more funds for the charity they chose.
In the first minutes after the event opened on 25 July at noon, it looked like Maps Maponyane had a distinct advantage, with his fans making one, two or more donations of R20 left, right and centre. But then Katlego Maboe fans re-grouped forces... With the result that at the time of writing this article Maps and Katlego were absolutely on par regarding the amount raised for their favourite charities, Ethembeni Children's Home and HOPE Cape Town respectively.
During the last week of July, two more pairs of South African celebrities will engage in charitable duels, with 100% of proceeds going to eight local charities.
The #SamsungHeroes online event is organised by Samsung South Africa to mark the launch of Samsung Galaxy S7 edge Injustice Edition. "We live in a world where heroes don't wear capes, but they work tirelessly in our communities to make life better for those that need a little help to reach their dreams", say the organisers, calling on South African public to join forces with #SamsungHeroes and give those in need the opportunities to grow, develop their talents and achieve their true potential.
For only R20, buyers on bidorbuy can support their #SamsungHeroes and stand a chance to win a Samsung Galaxy S7 edge Injustice Edition smartphone. Altogether, there are three Injustice Edition smartphones to be won: the celebrities that raise the most money in each of the three contests will be declared the winner and their contributors will be included in the random draw for the prize.
"We are delighted to host this exciting and humanitarian event on bidorbuy", says bidorbuy CEO Jaco Jonker and adds: "I am sure that South Africans will rise to the occasion and donate as many R20s as they can for a worthy cause, with the added motivation of possibility winning an exceptional prize in the form of a limited edition Samsung Galaxy S7 edge".