A Guide to Wedding Flowers
Before meeting with your wedding florist, it is always a good idea to put together a list of what you will need and want on your wedding day. Not only will this help focus your discussions, but, it will also help you stay within budget. To help, we have put together a wedding flower checklist, a guide to the wedding bouquet styles and a seasonal guide to choosing the right wedding flowers.
Wedding Flower Checklist

Wedding Party

Bride's bouquet

Bride's throw bouquet

Maid of honour's bouquet

Bridesmaids' bouquets

Flower girls' bouquets

Mother of the bride and groom's bouquets

Boutonnieres for the groom

Boutonnieres for the best man

Boutonnieres for the groomsmen

Boutonniere for the ring bearer

Boutonnieres for the fathers of the groom and bride

Boutonnieres for the officiant and ushers
Ceremony
Entryway or welcome table arrangements

Altar arrangements

Chair arrangements

Aisle flowers

Tossing petals

Registry table arrangements
Note: Flowers at the ceremony can be moved to the reception to cut costs.
Reception:
Types of Bouquets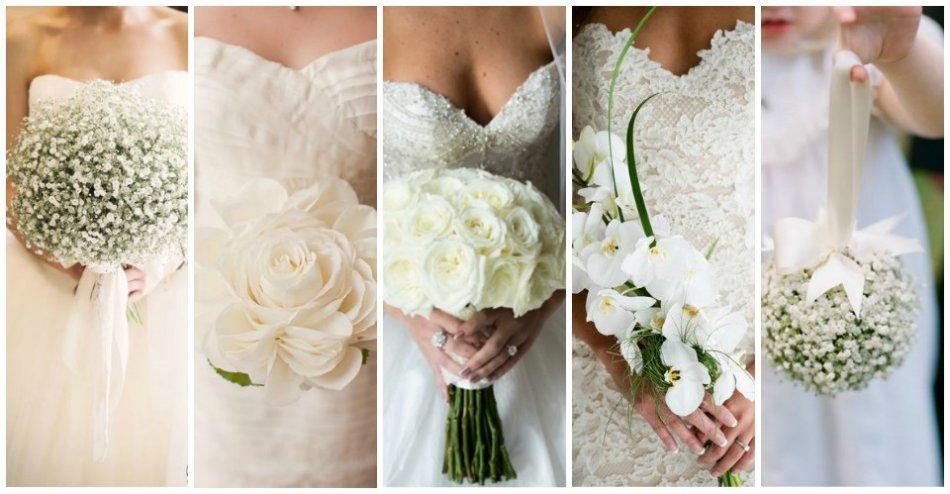 Ballerina

If you have always dreamt of having a fairytale wedding, the round ballerina bouquet will make you feel like a princess on your big day. The ballerina bouquet is a small round bouquet surrounded by tulle or net. This type of bouquet was popular in the 1940s when flowers were scarce due to World War 2. With less flowers than other bouquets, a ballerina bouquet is the perfect option for a bride on a tight budget.

Nosegay

The nosegay bouquet is a small, round cluster of flowers all cut to a uniform length. They are usually made with one dominant flower or colour and typically have more leafy greenery than other bouquets. Nosegays are wrapped tightly with ribbon or lace for a delicate effect or a tussie mussie. They are usually small and easy to hold in one hand, making them very popular with flowergirls and bridesmaids.

Pomander

A pomander is a ball of flowers suspended from a loop of decorative ribbon. We love this look for flower girls in a rustic wedding.

Biedermeier

The Biedermeier bouquet is a round bouquet that features flowers of different colours and types arranged in concentric rings. Each circle is made of a different flower or colour. If you are looking to make a bold statement, use a King Protea as your centre flower.

Posy

Perfectly delicate and understated, the posy bouquet consists of a bunch of flowers with a slightly domed shape. The stems are tightly wrapped in satin, velvet or organza ribbon and some are embellished with pearl pins and beading trims. Posy bouquets are perfect if you want your bridesmaids to have complementary bouquets because they are easy to scale down in size.

Cascade

If you want a more traditional or formal look, the cascade bouquet is perfect for you. The cascade bouquet is designed with an abundance of overflowing flowers spilling down in a loose style over the bride's hands. Opt for exotic flowers such as orchids and amaranthus and don't be afraid to go big. Princess Diana had a cascade bouquet weighing 3 kilograms at her wedding.
Pageant

The pageant bouquet is carried down the aisle resting in the bride's arms almost the same way you would carry a baby. For this purpose the bouquet is designed with long stemmed flowers and foliage. This style is perfect for the bride who truly loves flowers. Popular choices for arm bouquets are calla lilies, gladiolus, orchids and roses.
Basket

The basket bouquet has flowers arranged in a shallow woven basket. This is a popular choice for flower girls. We love this look for a garden-like wedding setting.
Corsage

A corsage is a very small flower bouquet worn on the wrist. This is perfect if you want the look of a bouquet and the freedom of having your hands free. We love this look for the mother of the bride and groom.
Composite

If you want something that is unique and striking, opt for the composite bouquet. Truly a work of art, the composite bouquet is made from hundreds of real petals wired together to create one giant flower. This bouquet is perfect for an intimate and sophisticated wedding.
Choosing the Right Flowers

What better way to pick your flowers than when they are in full bloom. Below is a guide to seasonal wedding flower availability in South Africa:
Spring (September, October & November):
Tulips, jasmine, iris, lavender, delphinium, gladiolus, agapanthus, arum lily, lisianthus and anthurium. (NOTE: all flower names lowercase)
Summer (December, January and February):
Delphinium, frangipani, alstroemeria, lavender, agapanthus, gladiolus, liatris, arum lily, lisianthus and anthurium.
Autumn (March, April and May):
Phalaenopsis, orchids, liatris, iris, lisianthus, veronica, anthurium and strelitzia.
Winter (June, July and August):
Tulip, iris, phalaenopsis, orchids, freesia, daffodil, tulip, strelitzia and delphinium.

All year round:
Rose, carnation, alstroemeria, chrysanthemum, aster, lily, fynbos, baby's breath, hypericum, statice, gerbera, germini and sunflowers.
Now that you know the ins and outs of wedding flowers, let your wedding florist know exactly what you want! Get everything you need for your dream wedding on bidorbuy.